"Baby-Pocalypse"
Season 1, Episode 4
Prod. Code:
103a
Premiered:
February 14, 2015
Credits
Written by:
 
Kenny Byerly
Storyboard by:
 
Kathleen Good
Directed by:
 
Tom De Rosier
"Baby-Pocalypse" is the fourth episode of the first season of Penn Zero: Part-Time Hero. It premiered on February 14, 2015.
Synopsis
In a world of living plush animals, the three stuffed teammates must save a plushy town from sinister giant babies.
Characters
Main characters
Other characters
Dr. Hissy
Nurse bear
Little giraffe
Plushie townspeople
Trivia
The Odyssey marquee signs
DR HISSY, LITTLE GIRAFFE, MAYOR PINK PANDA, CLOSED
International premieres
June 2, 2015 (Australia)
July 1, 2015 (Germany)
July 3, 2015 (Israel)
July 29, 2015 (Latin America and Brazil)
September 9, 2015 (EMEA)
January 9, 2016 (Turkey)
Gallery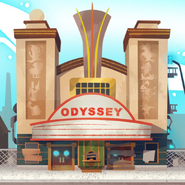 Click here to view the gallery.
Ad blocker interference detected!
Wikia is a free-to-use site that makes money from advertising. We have a modified experience for viewers using ad blockers

Wikia is not accessible if you've made further modifications. Remove the custom ad blocker rule(s) and the page will load as expected.