"Sash, check the specs."
This article is a stub. You can help the Penn Zero: Part-Time Hero Wiki by expanding it.
"Phyllis, what's with the pitch-black abyss of nothingness?"
Sadly, this page is lacking in images and/or a gallery!
Ball World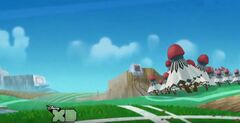 Ball World is a dimension with living sports equipment. It is featured in "Balls!".
Mission
First Mission ("Balls")
The heroes must teach the only remaining herd of balls to defend themselves from hunters.
Second Mission ("Back to the Past of the Future Balls")
Penn and Bouncy Ball to go back in time to stop Rippen eliminating the past.
Inhabitants
Tennis ball (replaced by Penn)
Soccer ball (replaced by Sashi)
Football (replaced by Boone)
Tennis racket (replaced by Rippen)
Ping pong paddle (replaced by Larry)
Hockey sticks
Ping pong ball
Sports equipment hunters
Ping pong balls
Baseballs
Basketballs
Rugby ball
Cricket balls
Marbles
Volleyballs
Multiple balls
Sightings
Trivia
A brief shot of Ball World appears during the montage of Penn and team removing vortexes in "Save the Worlds".
v

•

e

•

d

Penn Zero: Part-Time Hero Places and Dimensions
Ad blocker interference detected!
Wikia is a free-to-use site that makes money from advertising. We have a modified experience for viewers using ad blockers

Wikia is not accessible if you've made further modifications. Remove the custom ad blocker rule(s) and the page will load as expected.