"Sash, check the specs."
This article is a stub. You can help the Penn Zero: Part-Time Hero Wiki by expanding it.
Beach Ball Grandpappy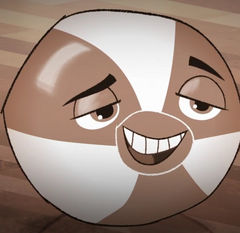 Character Information
Species:
Beach ball
Gender:
Male
Occupation:
Member of a ball herd
Residence:
Land of the last ball herd
Enemies:
The hunters
Dislikes:
Aggression
Beach Ball Grandpappy
is a male beach ball in Ball World who was deflated by a group of hunters.
Appearance
Being a beach ball, Beach Ball Grandpappy has three white stripes and three unknown-colored stripes on his body, with the top circle of the ball being where his mouth is.
Personality
Beach Ball Grandpappy is calm and relaxed, preferring peace and avoiding aggression. Sadly, he is deflated by a hunter, not much to his liking, and he warns the other balls to escape as he loses air.
v

•

e

•

d

Penn Zero: Part-Time Hero Characters