"Sash, check the specs."
This article is a stub. You can help the Penn Zero: Part-Time Hero Wiki by expanding it.
Bowling Ball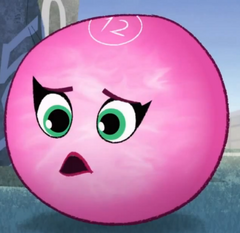 Character Information
Species:
Bowling ball
Gender:
Female
Occupation:
Member of a ball herd
Residence:
Land of last ball tribe, Ball World
Friends:
Eight Ball
Enemies:
Hunters (including Rippen)
Love interests:
Eight Ball
Dislikes:
Fighting the hunters (formerly)
Bowling Ball "Mary" is a female bowling ball in Ball World.
Appearance
Bowling Ball is a pink-clouded bowling ball with mint green eyes and dark red lipstick. On her forehead in the number 12 with a circle around it. She also speaks with a Southern accent.
Personality
Bowling Ball, though meaning well, is terrified of the hunters after they attack the herd and deflate Beach Ball Grandpappy. Taking Grandpappy's words to heart about running away, Bowling Ball is strongly against fighting the balls back and endangering themselves to getting hurt or killed. She doesn't agree with Penn telling the balls to defend themselves, eventually leading her to abandon her herd and her love, Eight Ball. However, she realizes she is wrong to avoid problems instead of dealing with them, so she returns to save 8 Ball and the herd.
Ad blocker interference detected!
Wikia is a free-to-use site that makes money from advertising. We have a modified experience for viewers using ad blockers

Wikia is not accessible if you've made further modifications. Remove the custom ad blocker rule(s) and the page will load as expected.