"Sash, check the specs."
This article is a stub. You can help the Penn Zero: Part-Time Hero Wiki by expanding it.
Caveman Spy World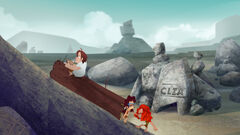 Caveman Spy World is a dimension with caveman spies. It is featured in "Rock and Roll".
Mission
Penn, Boone and Sashi are part of a spy agency of cavemen and they must use extremely low-tech gadgets (rocks, wood) to stop a weapon capable of mass destruction.
Inhabitants
Locations
C.L.I.A. Headquarters: A cave where the operations of the Cavemen. Low. Intelligence. Agency. (C.L.I.A.) are held.
Sightings
Trivia
Caveman Spy World appears in "Save the Worlds" as one of the places the heroes visit to close a vortex.

Before visiting the world and when the MUT is initially malfunctioning, Nug is zapped into Middleburg.
v

•

e

•

d

Penn Zero: Part-Time Hero Places and Dimensions
Ad blocker interference detected!
Wikia is a free-to-use site that makes money from advertising. We have a modified experience for viewers using ad blockers

Wikia is not accessible if you've made further modifications. Remove the custom ad blocker rule(s) and the page will load as expected.