"Sash, check the specs."
This article is a stub. You can help the Penn Zero: Part-Time Hero Wiki by expanding it.
Cereal World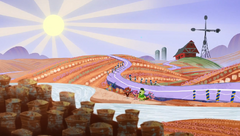 Cereal World is a dimension by cereal mascots that farm their cereal. It appears in "Cereal Criminals".
Mission
First Mission (Cereal Criminals)
The heroes need to stop the Milkman from flooding cereal crops, making them soggy. A way to figure out his overall plan is to talk to his best friend and cellmate Wrong Way Wally (replaced by Rippen).
Second Mission (Cereal Fugitives)
The heroes have to stop wrong way wally, Otis the opossum and the milkman to rob the train fill with choco trunks.
Inhabitants
Choco Chuck, mascot of Choco Choco Choco Trunks (replaced by Penn)
Agent Flamingo, mascot of Flaming-O's (replaced by Sashi)
The Be Well Beaver, mascot of Kale Flakes (replaced by Boone)
Wrong Way Wally, mascot of Choco Choco Choco Trunks (replaced by Rippen)
Otis the Opossum, mascot of Banana Bran (replaced by Larry)
Lenny the Lion, mascot of Lemon Lime Lion Logs
Bird mascot of Crispity Crunch
Prison guard
Marshmellow Mutts
Zom Tarts
Locations
Crispy Valley: the country town of the cereal mascots.

Farmland: fields of cereal crop with barns.
Marshmallow Dreams Maximum Security Prison: a prison for mascots that break the law.
Crispy Valley Milk Dam: the dam that keeps the milk from flooding the fields.

Multi Grain Marsh:
Objects
The Crunchington Post: Crispy Valley's newspaper, which is printed on cereal boxes.
Sightings
v

•

e

•

d

Penn Zero: Part-Time Hero Places and Dimensions
Ad blocker interference detected!
Wikia is a free-to-use site that makes money from advertising. We have a modified experience for viewers using ad blockers

Wikia is not accessible if you've made further modifications. Remove the custom ad blocker rule(s) and the page will load as expected.