"Chicken or Fish?"
Season 1, Episode 2
Prod. Code:
102a
Premiered:
February 13, 2015
Credits
Written by:
 
Jared Bush and Sam Levine
Storyboard by:
 
Stu Livingston
Directed by:
 
Chuckles Austen
"Chicken or Fish?" is the second episode of the first season of Penn Zero: Part-Time Hero. It premiered on February 13, 2015.[1]
Synopsis
While defending an underwater kingdom of fish-people, Penn helps Boone face an embarrassing secret.[2]
Characters
Major characters
Minor characters
Phyllis's pets
Prince of the Merpeople
Merpeople
Evil octopus army
Shark monster
Trivia
This episode serves as the official series premiere for the show.
Worlds seen/visited: Ocean World.
This episode and "The Old Old West" aired simultaneously on both Disney XD and Disney Channel as part of Disney XD on Disney Channel right after DCOM Bad Hair Day.
This episode reveals Boone has a fear of water.
The Odyssey marquee signs
RUFUS, H2O, JELLYFISH, RESTAURANT, CLOSED
International premieres
June 1, 2015 (Australia)
June 29, 2015 (Germany)
July 2, 2015 (Israel)
July 28, 2015 (Latin America and Brazil)
September 8, 2015 (EMEA)
January 2, 2016 (Turkey)
Gallery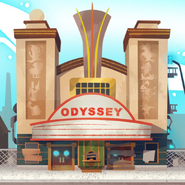 Click here to view the gallery.
References
↑ http://www.justjaredjr.com/2015/01/10/adam-devine-hits-the-recording-studio-for-penn-zero-part-time-hero-exclusive-pics/?photomorehere
v

•

e

•

d

Penn Zero: Part-Time Hero Episodes
Ad blocker interference detected!
Wikia is a free-to-use site that makes money from advertising. We have a modified experience for viewers using ad blockers

Wikia is not accessible if you've made further modifications. Remove the custom ad blocker rule(s) and the page will load as expected.