Crystal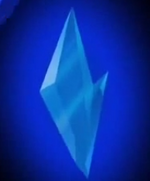 The crystal is a glowing blue shard that Penn comes across while trapped in the Nothingness in "Save the Worlds". When Phyllis notices that he has it in his back jean pocket, she takes it and reveals that it is a key to finding Penn's parents, Brock and Vonnie.
Trivia
The crystal is the first major lead in the search for Penn's parents so far.
The second crystal is discovered by Maria (inside the Treasure Chest) at the end of the first episode of Season 2. She then eventually gave it to Penn in the thirteenth episode Mr. Rippen when he returned to the Pirate World.
When Penn's MUHU tracks down the third crystal in the Beast World, it distracts him from the mission and causes him to not retrieve it, although Phyllis later manages so .
v

•

e

•

d

Penn Zero: Part-Time Hero Objects
Ad blocker interference detected!
Wikia is a free-to-use site that makes money from advertising. We have a modified experience for viewers using ad blockers

Wikia is not accessible if you've made further modifications. Remove the custom ad blocker rule(s) and the page will load as expected.