"Sash, check the specs."
This article is a stub. You can help the Penn Zero: Part-Time Hero Wiki by expanding it.
Death Eater's mother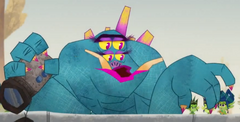 Character Information
Species:
Alien monster
Gender:
Female
Residence:
Alien World
The Death Eater's mother is an alien monster and the mother of the Death Eater in Alien World.
Appearance
The Death Eater's mother is a large dark blue monster with four violet eyes. She has two long lower teeth that stick out of her mouth while the rest are short and jagged, a periwinkle nose with large nostrils, and pink blunt spikes with yellow tips on her back. She has muscular arms with tiny claws on her fingers and elephant-like feet with giant claws as toes. Also, she wears make-up, like purple mascara, pink lipstick, and pink nail polish on her claws.
Trivia
The Death Eater's mother owns a camcorder.
v

•

e

•

d

Penn Zero: Part-Time Hero Characters