"Sash, check the specs."
This article is a stub. You can help the Penn Zero: Part-Time Hero Wiki by expanding it.
"Phyllis, what's with the pitch-black abyss of nothingness?"
Sadly, this page is lacking in images and/or a gallery!
Fish Stick on a Stick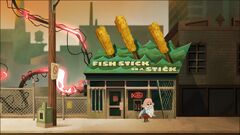 Type:
Restaurant
Owner:
Phil
Fish Stick on a Stick is a restaurant next to The Odyssey in Middleburg that holds the Multi-Universe Transprojector for the part-time villains.
It is destroyed in At the End of the Worlds along with The Odyssey.
 Employees
Sightings
Trivia
Because Sashi's parents aren't part-time heroes, Sashi tells them that she works at Fish Stick on a Stick.
Old Man Middleburg goes to Fish Stick on a Stick for food, as seen in "The Ripple Effect" and "The QPC".

He is upset when Phil says that Chuck is his best customer over him in the latter episode.
v

•

e

•

d

Penn Zero: Part-Time Hero Places and Dimensions
Ad blocker interference detected!
Wikia is a free-to-use site that makes money from advertising. We have a modified experience for viewers using ad blockers

Wikia is not accessible if you've made further modifications. Remove the custom ad blocker rule(s) and the page will load as expected.