"Sash, check the specs."
This article is a stub. You can help the Penn Zero: Part-Time Hero Wiki by expanding it.
Flurgle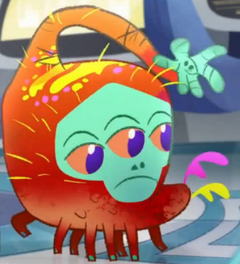 Character Information
Species:
Alien
Occupation:
Pet on a spaceship
Residence:
Spaceship, Space World
Flurgle is an alien dog-pig that resides as a pet on a spaceship in Space World. Due to a teleportation accident, Penn temporarily gets fused with the Flurgle during a mission in "Flurgle Burgle".
Appearance
The Flurgle has a blue green chimpanzee-like face with three orange eyes and purple pupils. It has an orange body with yellow splotches on its back, eight short legs, and two feathers as his tail, one yellow and the other magenta. On top of its head is a long tentacle that has a blue green, six-pointed, star-shaped tip with nostrils at the end.
Trivia
v

•

e

•

d

Penn Zero: Part-Time Hero Characters
Ad blocker interference detected!
Wikia is a free-to-use site that makes money from advertising. We have a modified experience for viewers using ad blockers

Wikia is not accessible if you've made further modifications. Remove the custom ad blocker rule(s) and the page will load as expected.