"Flurgle Burgle"
Season 1, Episode 10
Prod. Code:
106a
Premiered:
February 23, 2015
Credits
Story by:
 
Jared Bush and Sam Levine
Written by:
 
Kenny Byerly
Storyboard by:
 
Kathleen Good
Directed by:
 
Tom De Rosier
"Flurgle Burgle" is the tenth episode of the first season of Penn Zero: Part-Time Hero. It premiered on February 23, 2015.[1]
Synopsis
The team is zapped into a new world as spaceship heroes to save a damaged starship from certain destruction, but Sashi accidentally turns Penn into a weird space animal.[1]
Characters
Major characters
Minor characters
Evil alien species
Spaceship crew
Trivia
The Odyssey marquee signs
SASHI, SPACE BUG, FLURGLE BURGLE, CAKE, CLOSED
International premieres
June 5, 2015 (Australia)
June 8, 2015 (UK and Ireland)
July 7, 2015 (Israel)
July 9, 2015 (Germany)
August 3, 2015 (Latin America and Brazil)
September 14, 2015 (EMEA)
Gallery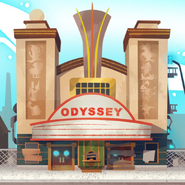 Click here to view the gallery.
References
v

•

e

•

d

Penn Zero: Part-Time Hero Episodes
Ad blocker interference detected!
Wikia is a free-to-use site that makes money from advertising. We have a modified experience for viewers using ad blockers

Wikia is not accessible if you've made further modifications. Remove the custom ad blocker rule(s) and the page will load as expected.