"Sash, check the specs."
This article is a stub. You can help the Penn Zero: Part-Time Hero Wiki by expanding it.
"Phyllis, what's with the pitch-black abyss of nothingness?"
Sadly, this page is lacking in images and/or a gallery!
Giant Monster Island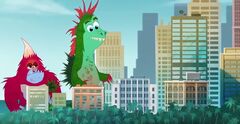 Giant Monster World is a dimension with humans and giant monsters. It is featured in 3 Big Problems.
Mission
First Mission ("3 Big Problems")
Penn, Boone and Sashi (as monsters) must convince the human president of a nearby island that all the monsters are good.
Second Mission ("13 Big Problem")
Penn Boone and Sashi (as monsters) have to get the newborn monsters and get them to the nursery before they destroy the city and end the peace between humans and monsters forever.
Inhabitants
Giant lizard monster with fire breath (replaced by Penn)
Giant insect monster with lightning eyes (replaced by Sashi)
Giant Ape monster (replaced by Boone)
Admiral of Island City navy (replaced by Rippen)
Ensign of Island City navy (replaced by Larry)
Townspeople
Monsters
Locations
Giant Monster home island
Island City
Sightings
v

•

e

•

d

Penn Zero: Part-Time Hero Places and Dimensions
Ad blocker interference detected!
Wikia is a free-to-use site that makes money from advertising. We have a modified experience for viewers using ad blockers

Wikia is not accessible if you've made further modifications. Remove the custom ad blocker rule(s) and the page will load as expected.