"Sash, check the specs."
This article is a stub. You can help the Penn Zero: Part-Time Hero Wiki by expanding it.
Helper Hue
Helper Hue is a member of the Hues in Huestown, Color World.
Personality
Like her fellow Hues, Helper Hue likes doing fun activities, rhyming, and outdoing their enemies, the Drabs. However, he realizes that the Hues aren't that bad once all the color is gone and Penn points out how the Drabs and Hues are really the same. After that, he treats the Drabs as friends.
Gallery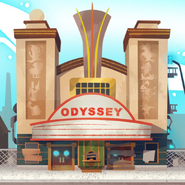 Click here to view the gallery.
v

•

e

•

d

Penn Zero: Part-Time Hero Characters
Ad blocker interference detected!
Wikia is a free-to-use site that makes money from advertising. We have a modified experience for viewers using ad blockers

Wikia is not accessible if you've made further modifications. Remove the custom ad blocker rule(s) and the page will load as expected.