"Sash, check the specs."
This article is a stub. You can help the Penn Zero: Part-Time Hero Wiki by expanding it.
Island City President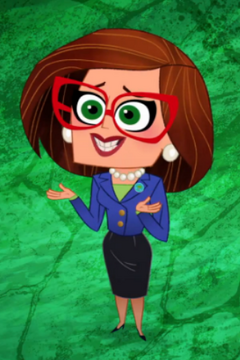 Character Information
Species:
Human
Gender:
Female
Occupation:
President of Island City
Residence:
Island City, Giant Monster World
Love interests:
Larry
(husband)
The President of Island City is a woman in charge of Island City in Giant Monster World.
Appearance
The Island City President is a thin woman at normal height with short brown hair and green eyes. She wears a collared blue suit with two buttons down the middle, a green shirt beneath the suit as well as a medium-length black skirt and a pair of black high heels. She also wears a bead necklace, bead earrings and big glasses with red rims.
Personality
The President is a very optimistic person, proposing the idea that the destructive action of the monsters in destroying various monuments of the island city could be misunderstandings, despite the evacuation of the island city's residents and the city itself being in flames because of the giant monsters. She also appears to be lax about security, choosing only a single digit, 3, for the activation code of the Monster buster bomb, as she thought that it would be easier to remember.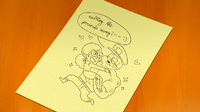 She appears to have strong feelings for Larry, going so far as to want to spend her supposed last moments with him, as well as sharing the moment of friendship between monsters and humans with him. She likes Larry's optimism, which is very similar to hers.
v

•

e

•

d

Penn Zero: Part-Time Hero Characters
Ad blocker interference detected!
Wikia is a free-to-use site that makes money from advertising. We have a modified experience for viewers using ad blockers

Wikia is not accessible if you've made further modifications. Remove the custom ad blocker rule(s) and the page will load as expected.