"It's a Colorful Life"
Season 1, Episode 20
Prod. Code:
111a
Premiered:
June 1, 2015
Credits
Written by:
 
Elizabeth Rinehart
Storyboard by:
 
Stu Livingston
Directed by:
 
Chuckles Austen
"It's a Colorful Life" is the twentieth episode of the first season of Penn Zero: Part-Time Hero.[1] It premiered on June 1, 2015.[2]
Synopsis
When Penn and his team are zapped into a color-filled world where the colorful Hues and the gray Drabs are in a feud, they must stop Rippen from destroying the rainbow rocks.[3]
Characters
Major characters
Minor characters
Trivia
This episode was released early on WATCH Disney XD on May 25, 2015.
Worlds seen/visited: Most Dangerous World Imaginable and Color World.
The title is a reference to the 1946 film It's a Wonderful Life.
Color World has many references to the books by Dr. Seuss.

The conflict between the Hues and the Drabs is very similar to the Sneetches (divided into two types, as one group is comprised of those who have stars on their bellies, and the other group is comprised of those who don't) of the Dr. Seuss story of the same name from the book The Sneetches and Other Stories, and one of the three segments of the DePatie-Freeling Cartoon Dr. Seuss on the Loose.

It is revealed that Phyllis is very allergic to flowers.
Brock and Vonnie kiss in this episode. The next time is in "The Most Dangerous World Imaginable", because in that episode, it is their anniversary.
The Odyssey marquee signs
BIRD, RED, BLUE, GREEN, ORANGE, YELLOW, PURPLE, NARRATOR, CLOSED
International premieres
June 12, 2015 (Australia)
August 10, 2015 (Latin America and Brazil)
October 18, 2015 (Israel)
November 22, 2015 (Southeast Asia)
Gallery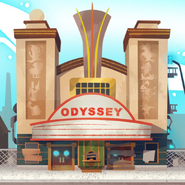 Click here to view the gallery.
References
v

•

e

•

d

Penn Zero: Part-Time Hero Episodes
Ad blocker interference detected!
Wikia is a free-to-use site that makes money from advertising. We have a modified experience for viewers using ad blockers

Wikia is not accessible if you've made further modifications. Remove the custom ad blocker rule(s) and the page will load as expected.