"Sash, check the specs."
This article is a stub. You can help the Penn Zero: Part-Time Hero Wiki by expanding it.
Judge Blort Clooney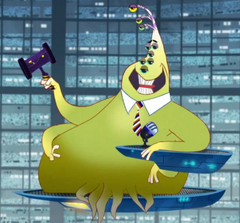 Character Information
Species:
Alien
Gender:
Male
Occupation:
Host of Outer Space Court Live
Residence:
Outer Space Court World
Judge Blort Clooney is the alien host and judge of the show Outer Space Court Live in Outer Space Court World.
Trivia
The Judge is afraid that he might not survive when being around Jorlanx.
v

•

e

•

d

Penn Zero: Part-Time Hero Characters
Ad blocker interference detected!
Wikia is a free-to-use site that makes money from advertising. We have a modified experience for viewers using ad blockers

Wikia is not accessible if you've made further modifications. Remove the custom ad blocker rule(s) and the page will load as expected.