"Sash, check the specs."
This article is a stub. You can help the Penn Zero: Part-Time Hero Wiki by expanding it.
This page is for Lady Starblaster (character), the character. For the episode, see Lady Starblaster.
Lady Starblaster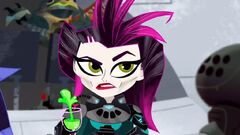 Character Information
Gender:
Female
Occupation:
Villain
Residence:
Galaxy World
Love interests:
Rippen
Lady Starblaster is a ruthless space villain that appears in the episode (of the same name) , whom Rippen falls for.
Appearance
Lady Starblaster has a feminine stature in appearance. She has dark grey fuschia hair in form of a side swept style with long strands of hair standing upward also with two nicks at the left side, and chartreuse eyes.
Personality
v

•

e

•

d

Penn Zero: Part-Time Hero Characters