"Sash, check the specs."
This article is a stub. You can help the Penn Zero: Part-Time Hero Wiki by expanding it.
"Phyllis, what's with the pitch-black abyss of nothingness?"
Sadly, this page is lacking in images and/or a gallery!
This page is for Larry Manor (mansion), the mansion. For the episode, see Larry Manor.
Larry Manor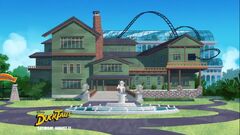 The Old Man Middleburg Manor is a mansion in Middleburg, currently owned by the Old Man Middleburg.
Residents
Employees
Sightings
Trivia
Larry was able to buy the mansion due to winning 32 lottery tickets.
v

•

e

•

d

Penn Zero: Part-Time Hero Places and Dimensions
Ad blocker interference detected!
Wikia is a free-to-use site that makes money from advertising. We have a modified experience for viewers using ad blockers

Wikia is not accessible if you've made further modifications. Remove the custom ad blocker rule(s) and the page will load as expected.