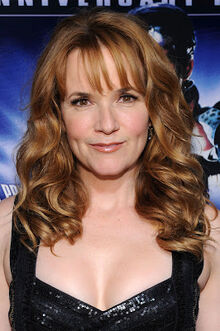 Lea Kathleen Thompson (born May 31, 1961) is an American actress, television director and television producer. She is known for her role as Lorraine Baines in the Back to the Future trilogy and as the title character in the 1990s NBC sitcom Caroline in the City. Other films she is known for include All the Right Moves, The Beverly Hillbillies, Howard the Duck, Jaws 3-D, Red Dawn, and Some Kind of Wonderful. Since 2011 she has co-starred as Kathryn Kennish in the ABC Family series Switched at Birth.
Lea is the voice of Vonnie Zero.[1]
Early life
Thompson was born in Rochester, Minnesota, the daughter of Barbara Anne (née Barry), a singer and musician, and Clifford Elwin "Cliff" Thompson. She studied ballet as a girl and practiced three to four hours every day. She was dancing professionally by the age of 14. She won scholarships to several ballet schools, including the American Ballet Theatre, the San Francisco Ballet, and the Pennsylvania Ballet. Thompson danced in more than 45 ballets with the American Ballet Theatre. She also danced with the Pennsylvania Ballet, the Minnesota Dance Theatre and the Ballet Repertory. Her brother Andrew also took ballet classes and went on to become a professional.Thompson was told by ballet legend and then ABT artistic director Mikhail Baryshnikov that she was "a beautiful dancer, but too stocky." Due to this (as well as some small nagging past injuries), she decided to give up dancing in favor of an acting career. She moved to New York at age 20 and performed in a number of Burger King advertisements in the 1980s along with Sarah Michelle Gellar and Elisabeth Shue, her eventual co-star in Back to the Future Part II and Back to the Future Part III
External links
References
Ad blocker interference detected!
Wikia is a free-to-use site that makes money from advertising. We have a modified experience for viewers using ad blockers

Wikia is not accessible if you've made further modifications. Remove the custom ad blocker rule(s) and the page will load as expected.