"Sash, check the specs."
This article is a stub. You can help the Penn Zero: Part-Time Hero Wiki by expanding it.
Least Dangerous World Imaginable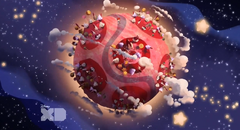 Planet of the cutelings
The Least Dangerous World Imaginable is a dimension where the planet of the Cutelings reside.
Mission
After Penn accidentally caused mayhem and destruction on the planet, Boone and Sashi have to prevent the destruction of the planet and its population, without Penn.
Inhabitants
Penn (as himself)
Cuteling mayor (replaced by Rippen)
Cuteling general (replaced by Larry)
Other Cuteling Citizens
Cute animals (Puppies, kittens etc.)
Locations
Planet of the Cutelings
Ploopiter
Sightings
v

•

e

•

d

Penn Zero: Part-Time Hero Places and Dimensions
Ad blocker interference detected!
Wikia is a free-to-use site that makes money from advertising. We have a modified experience for viewers using ad blockers

Wikia is not accessible if you've made further modifications. Remove the custom ad blocker rule(s) and the page will load as expected.