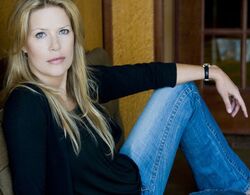 Mary Elizabeth McGlynn (born October 16, 1966) is an American voice actress, ADR director and writer. She is the dialogue director for Penn Zero: Part-Time Hero.
Career
She is best known for her extensive English-language dubbing of various anime, and her singing in multiple games from the Silent Hill series, as well as the movie adaptation and Dance Dance Revolution EXTREME. She has also had several movie roles. She was a Guest of Honor at Anime Expo 2007, Long Beach, and won the 2007 American Anime Award for Best Actress for her role as Major Motoko Kusanagi in Ghost In The Shell: Stand Alone Complex. She won a Society for the Promotion of Japanese Animation (SPJA) award in 2008 for Best Director for her work on Naruto.
External links
Ad blocker interference detected!
Wikia is a free-to-use site that makes money from advertising. We have a modified experience for viewers using ad blockers

Wikia is not accessible if you've made further modifications. Remove the custom ad blocker rule(s) and the page will load as expected.