"Sash, check the specs."
This article is a stub. You can help the Penn Zero: Part-Time Hero Wiki by expanding it.
Matthews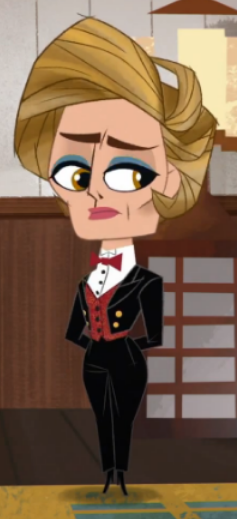 Matthews is Larry's butler at Larry Manor.
Appearance
Matthews is tall with dark blonde hair and golden brown eyes. She wears pale blue eye shadow and pink lipstick. Wearing a butler uniform, she wears a white wing collar dress shirt underneath a red vest and a black morning coat with golden buttons, a red bow tie, white gloves, black trousers, and black dress shoes.
Personality
Matthews is proper and serious, keeping things orderly and making sure others know the facts. At the same time, she is very kind and caring, being concerned when Tony goes missing and forgiving Fredricks for framing her due to jealousy by promoting him to co-butler with her, as opposed to her own butler.
Trivia
Matthews knows how to speak Spanish.
Gallery

Click here to view the gallery.
v

•

e

•

d

Penn Zero: Part-Time Hero Characters