"Sash, check the specs."
This article is a stub. You can help the Penn Zero: Part-Time Hero Wiki by expanding it.
Mayor Pink Panda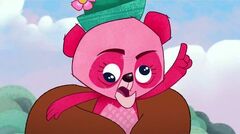 Character Information
Species:
Stuffed animal
Gender:
Female
Occupation:
Mayor of a village
Residence:
Town, Plush Toy World
Enemies:
Giant babies and toddlers (Rippen and Larry)
Dislikes:
Lawbreakers
Mayor Pink Panda is the stuffed animal mayor of a village in Plush Toy World.
Appearance
Mayor Pink Panda is a pink plush panda, including a heart-shaped light pink chest with a heart texture. She has dark blue googly eyes, and she wears a teal hat with a light pink flower attached.
Personality
Mayor Pink Panda is very serious about her job as mayor and the laws. She gets frustrated with those who don't follow the laws, along with threatening to take action in the government against those who do immoral things. Though a bit gruff and grim, she cares for her town, appreciating those willing to help her and the town when trouble occurs.
v

•

e

•

d

Penn Zero: Part-Time Hero Characters
Ad blocker interference detected!
Wikia is a free-to-use site that makes money from advertising. We have a modified experience for viewers using ad blockers

Wikia is not accessible if you've made further modifications. Remove the custom ad blocker rule(s) and the page will load as expected.