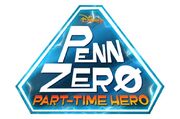 Penn Zero: Part-Time Hero is an American animated television series created by Jared Bush and Sam Levine for Disney XD. It is produced by Disney Television Animation and Mercury Filmworks. A sneak peak episode, "North Pole Down", was released on December 5, 2014, and the show officially premiered on February 13, 2015.
The first season ended on October 1, 2015 and the second season premiered on July 10, 2017. The series ended July 28, 2017
Plot
Every day after school, Penn leads his team of best friends Sashi, an overqualified part-time sidekick, and Boone, an under qualified part-time wise man, as they zap to other dimensions to fill in for heroes in need and battle the evil part-time villain Rippen and his part-time minion Larry. Whether superhero, fish-prince, clown cop, giant monster or tiny action-figure, Penn uses his unconventional heroic skills to save the day – his own way.
Cast
Production
Jared Bush said that he always liked the idea of a character who could go to different genres, but he didn't know how to tell that story. He pitched it to executive director of development Jonathan Schneider at TVA, who responded that while he liked the idea, they needed to do a lot of work on it. He brought Jared together with Sam Levine, and Jared and Sam worked together to figure out the characters and mythology of the show.[1]
The duo incorporated many elements from their own lives. Jared, as a kid, found out that his father and grandfather were CIA agents, so he made Penn discover his parents are part-time heroes. Sam's father was a projectionist at a theater, so Sam had the device that transports the heroes a movie projector called the Multi-Universe Transprojector. Jared and Sam found it very important for the show to be character-driven and for the style to be detailed and similar to art styles from the 1950's.[2]
Trivia
The Wilhelm scream is heard about every episode.
Release
Country
Channel
Premiere date
Title
Source
Canada
Disney XD
March 16, 2015
Penn Zero: Part-Time Hero
[3]
Southeast Asia
Disney Channel Asia
April 13, 2015
[4][5]
United Kingdom
Disney XD
May 14, 2015
Ireland
Australia
Disney XD
June 1, 2015
[6]
South Korea
Disney Channel
June 9, 2015
펜 제로
[7]
Germany
Disney XD
June 29, 2015
Penn Zero - Teilzeitheld
[8]
Israel
Disney Channel
July 1, 2015
פן זירו- גיבור במשרה חלקית
[9]
Latin America
Disney XD
July 27, 2015
Penn Zero - Casi Héroe
[10]
Brazil
Penn Zero: Quase Herói
[11]
Netherlands
Disney XD
August 31, 2015
Penn Zero - Parttime Held
[12]
Belgium
Poland
Disney XD
September 7, 2015
Penn Zero – bohater na pół etatu
[13]
Middle East
Disney XD
Penn Zero: Part-Time Hero
[14]
Africa
Hungary
Disney Channel
TBA
Penn Zero, a félállású hős
[15]
References
Ad blocker interference detected!
Wikia is a free-to-use site that makes money from advertising. We have a modified experience for viewers using ad blockers

Wikia is not accessible if you've made further modifications. Remove the custom ad blocker rule(s) and the page will load as expected.