Phil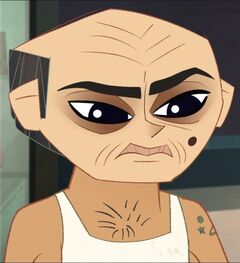 Phil is the Multi-Universe Transprojector technician at Fish Stick on a Stick for Rippen and Larry. He is the villain version of Phyllis.
Appearance
Phil is short and muscular with dark gray hair, a balding head, black eyes, and a mole on his left cheek. He wears a white tank top, dark blue jeans, a brown waist apron with pockets, and black shoes. On his left shoulder, he has a light blue tattoo of a planet with a Saturn-like ring surrounded by six stars and three tiny planets.
Sightings
Trivia
Phil is the opposite of Phyllis. While both look alike, Phil works for part-time villains and Phyllis works for part-time heroes.
He is friends with Uncle Chuck both being on the same Bowling Team and a repeat customer.
At the end of At the End of the Worlds it is revealed that Phil & Phyllis are really one creature
v

•

e

•

d

Penn Zero: Part-Time Hero Characters
Ad blocker interference detected!
Wikia is a free-to-use site that makes money from advertising. We have a modified experience for viewers using ad blockers

Wikia is not accessible if you've made further modifications. Remove the custom ad blocker rule(s) and the page will load as expected.