"Sash, check the specs."
This article is a stub. You can help the Penn Zero: Part-Time Hero Wiki by expanding it.
Pirate World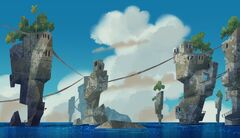 Pirate World is a dimension where pirates ride on sea-like creatures as ships. It will be featured in Season 2.[1]
Missions
First Mission ("The Pirates, the Parrot, the puzzle and the Talking Boats")
The team must recover the treasure map from wood beard and find the treasure.
Second Mission ("Mr. Rippen")
The team have to save the golden fish boats.
Inhabitants
Pirate (replaced by Penn Zero)
Parrot (replaced by Sashi)
Talking Whale-Shaped Boat (replaced by Boone)
Wood Beard (replaced by Rippen)
Talking Shark-Shaped Boat (replaced by Larry)
Parrots
Locations
Sighting
References
v

•

e

•

d

Penn Zero: Part-Time Hero Places and Dimensions
Ad blocker interference detected!
Wikia is a free-to-use site that makes money from advertising. We have a modified experience for viewers using ad blockers

Wikia is not accessible if you've made further modifications. Remove the custom ad blocker rule(s) and the page will load as expected.