"Sash, check the specs."
This article is a stub. You can help the Penn Zero: Part-Time Hero Wiki by expanding it.
Plant World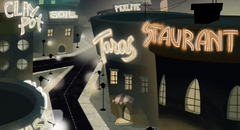 Plant World is a dimension where its inhabitants are different varieties of plants. It appears in Plantywood: City of Flora.
Mission
Penn and Sashi, as a detective and his trusty sidekick, must prevent a notorious criminal from poisoning the town's water with weedkiller.
The mystery of surrounding basil.
Inhabitants
Cactus detective (replaced by Penn)
Dandelion sidekick (replaced by Sashi)
Basil (replaced by Boone)
Big Red (replaced by Rippen)
Big Red's minion (replaced by Larry)
Pine Lifeguard
Mushroom Goons
Plantywood city residents
Locations
Sightings
v

•

e

•

d

Penn Zero: Part-Time Hero Places and Dimensions
Ad blocker interference detected!
Wikia is a free-to-use site that makes money from advertising. We have a modified experience for viewers using ad blockers

Wikia is not accessible if you've made further modifications. Remove the custom ad blocker rule(s) and the page will load as expected.