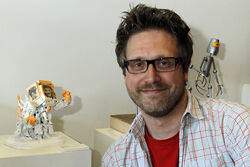 Sam J. Levine is the co-creator, voice actor, writer, director, and executive producer of Penn Zero: Part-Time Hero.
Sam is the voice of Phyllis[1] and Phil.
Career
Sam was an inbetween artist for Nessus, the Argons, and the Goddesses for Disney's Hercules, and he was an addition animator for Disney's Tarzan. He was a storyboard artist for Treasure Planet and Home on the Range, the latter of which he also wrote for and voiced the Willie brothers, and was an additional story artist for Bolt. He wrote additional story material for Wreck-It Ralph, and on the Nickelodeon show Robot and Monster, he directed seven episodes.
Episodes Written
External links
References
Ad blocker interference detected!
Wikia is a free-to-use site that makes money from advertising. We have a modified experience for viewers using ad blockers

Wikia is not accessible if you've made further modifications. Remove the custom ad blocker rule(s) and the page will load as expected.