"Sash, check the specs."
This article is a stub. You can help the Penn Zero: Part-Time Hero Wiki by expanding it.
Sheriff Scaley Briggs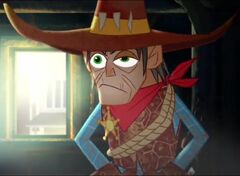 Sheriff Scaley Briggs is the sheriff of Big Butte in Dinosaur Cowboy World.
Appearance
Sheriff Scaley Briggs is tall with straight gray hair and green eyes. He wears a brown cowboy hat with a yellow band that has dinosaur bones attached to it and a hole. He wears a red bandana tied around his neck, a blue flannel shirt, and a brown dinosaur scale vest with a gold sheriff star attached. Also, he wears brown gloves, a brown belt that has a pouch to hold his slingshot, black pants, and brown cowboy boots.
Personality
Sheriff Scaley Briggs is old and rough, being very serious, like insisting he be called his full name, and desiring to protect others. Though worn, he longs to prove himself to his town that despite his age, he still is a capable sheriff. While prone to falling asleep and getting confused, he has his tricks and knows how to fool others when needed be.
Trivia
Sheriff Scaley Briggs finds it hard to distinguish good guys from bad guys since black hats started getting sold to the general public, like mistaking Penn to be a villain for wearing one.
Despite being alive he sleeps in a coffin, probably because it's the cheapest bed he could afford.
He does not understand basic math.
Gallery

Click here to view the gallery.
v

•

e

•

d

Penn Zero: Part-Time Hero Characters
Ad blocker interference detected!
Wikia is a free-to-use site that makes money from advertising. We have a modified experience for viewers using ad blockers

Wikia is not accessible if you've made further modifications. Remove the custom ad blocker rule(s) and the page will load as expected.