Sitcom World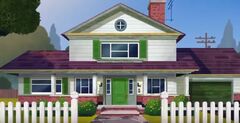 "Sitcom World"
Mission
To make sure that dinner with the boss goes well and prevent Max, a evil prankster of a son from doing any pranking.
Inhabitants
Mr. Wright (Replaced by Penn)
Wally Wright (Replaced by Boone)
Molly Wright (Replaced by Sashi)
Max Wright (Replaced by Rippen)
Locations
Trivia
It is shown that the Sitcom World has a 1980's surroundings due to having large cellphones, and cameras that can connect to televisions.
v

•

e

•

d

Penn Zero: Part-Time Hero Places and Dimensions
Ad blocker interference detected!
Wikia is a free-to-use site that makes money from advertising. We have a modified experience for viewers using ad blockers

Wikia is not accessible if you've made further modifications. Remove the custom ad blocker rule(s) and the page will load as expected.