"Sash, check the specs."
This article is a stub. You can help the Penn Zero: Part-Time Hero Wiki by expanding it.
Sonny Sonnerstein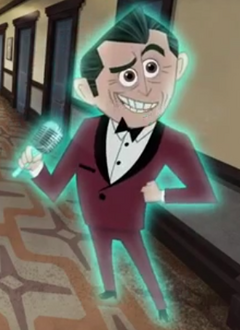 Character Information
Species:
Human (Ghost)
Gender:
Male
Occupation:
Insult comic
Sonny Sonerstein is an insult stand-up comic and ghost who currently resides in the Most Dangerous World Imaginable. He debuted his iconic rubber chicken act at a Ski Resort Hotel, and continued to regularly perform there as a ghost after it was bought out, though he left.[1]
Appearance
Sonny is a tall, older man with black hair cut in a widow's peak and brown eyes. He wore a black bowtie in a reddish brown suit with black lapels, buttons and pockets. He often carries a microphone and/or his familiar rubber chicken with him.
Personality
Sonny has a comical personality and is almost always joking, but as an insult comic, most of his jokes are insults at the expense of others, and occasionally himself. He values those who can "laugh at themselves", such as Larry, and these are the people who would most naturally enjoy his sense of humor. Despite this, he is himself very sentimental, still enjoying performing his original act and missing his rubber chicken when it becomes unavailable.
Relationships
Larry meets Sonny after falling down an elevator in the hotel, and thinks his jokes are hilarious even when at his own expense. He enjoys Sonny's old act, including the chicken jokes, and they become friendly. Larry even helps reunite Sonny with his favorite rubber chicken, which was kept behind glass, which ghosts could not pass through. Although Rippen and Larry are tasked to capture Sonny and send him to limbo to succeed their mission, Larry begins crying at the thought of hurting his new friend, opening limbo and leaving. and Rippen gives up. They remain friends afterwards.
Trivia
Sonny may be inspired by the Rat Pack, a supergroup often associated today with singer Frank Sinatra, who was close friends with insult comic Don Rickles.
Gallery

Click here to view the gallery.
References
v

•

e

•

d

Penn Zero: Part-Time Hero Characters