Space World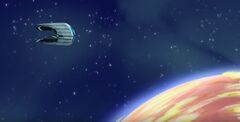 Space World is a dimension with a space setting. It was featured in "Flurgle Burgle".
Mission
First Mission (Flurgle Burgle)
The team must stop a spaceship from certain destruction that Rippen has caused.
Second Mission (The Kobayashis)
Sashi and her parents have to save the small viligers from the shnurkons to place a qartex bomb to the village.
Inhabitants
Locations
Spaceship: It is where the crew recide.
Unknown Planet: Sashi and Boone are captured there by Rippen until they are rescued by Flurgle/Penn.
Village:
Sightings
Objects
v

•

e

•

d

Penn Zero: Part-Time Hero Places and Dimensions
Ad blocker interference detected!
Wikia is a free-to-use site that makes money from advertising. We have a modified experience for viewers using ad blockers

Wikia is not accessible if you've made further modifications. Remove the custom ad blocker rule(s) and the page will load as expected.