"Sash, check the specs."
This article is a stub. You can help the Penn Zero: Part-Time Hero Wiki by expanding it.
"The Pirates, the Parrot, the Puzzles and the Talking Boats"
Season 2, Episode 1
Prod. Code:
201
Premiered:
July 10, 2017
Credits
Written by:
 
Jeff Poliquin
Storyboard by:
 
Brandon Warren and

Joseph S.Scott

Directed by:
 
Adam Henry and

Tom De Rosier
"The Pirates, the Parrot, the Puzzles and the Talking Boats" is the fifth double-length special episode, the first episode of the second season, and the second season premiere of Penn Zero: Part-Time Hero. It aired in the U.S. on July 10, 2017.[1]
Synopsis
In order to beat Rippen to a pirate treasure, Penn must solve a series of puzzles with the help of Maria.
Plot
After a recap of the events of the first season. Penn, Sashi and Boone are sent to a pirate world where the whales act as the ships. Penn must get to a treasure before Rippen does. But finds himself teaming with a competitive female pirate in the process.
Characters
Major characters
Trivia
This episode is parody of the movie: ''Pirates of the Caribbean''
This is the only episode where a Show's opening title appears ins few seconds instead of the original opening
The second shard is found by Maria inside the treasure chest.
Boone mention renting monkeys back in "The Fast and the Floor Rugs".
International Premieres
TBA
Gallery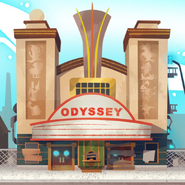 Click here to view the gallery.
References
v

•

e

•

d

Penn Zero: Part-Time Hero Episodes
Ad blocker interference detected!
Wikia is a free-to-use site that makes money from advertising. We have a modified experience for viewers using ad blockers

Wikia is not accessible if you've made further modifications. Remove the custom ad blocker rule(s) and the page will load as expected.