"Trading Faces"
Season 2, Episode 20
Prod. Code:
211b
Premiered:
July 26, 2017
Credits
Written by:
 
Paiman Kalayeh
Storyboard by:
 
Brandon Warren
Directed by:
 
Tom De Rosier
''Trading Faces'' is the twentieth episode of the second season of Penn Zero: Part-Time Hero. It premiered on July 26, 2017.
Synopsis
When an incident with the multiverse portal goes awry, Rippen and Larry had their bodies swap.
Characters
Major Characters
Minor Characters
Trivia
Worlds seen/Visited: Color World
This episode reveal that Matilda used to love Penn, until she start to date Alex in the final episode At the End of the Worlds.
Tony have a birthmark of a broccoli on his left ear.
Gallery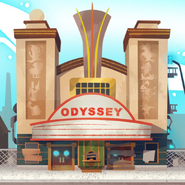 Click here to view the gallery.
v

•

e

•

d

Penn Zero: Part-Time Hero Episodes
Ad blocker interference detected!
Wikia is a free-to-use site that makes money from advertising. We have a modified experience for viewers using ad blockers

Wikia is not accessible if you've made further modifications. Remove the custom ad blocker rule(s) and the page will load as expected.