"Sash, check the specs."
This article is a stub. You can help the Penn Zero: Part-Time Hero Wiki by expanding it.
Vlurgen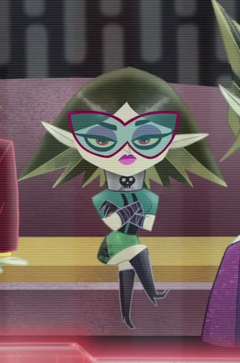 Production Information
First episode:
"Cereal Criminals (mentioned)"
Latest episode:
"Mr. Rippen (debut)"
Voiced by:
Alex Kingston
Character Information
Occupation:
Villainess
Relatives:
Axalon (father)
Hedwin (mother)
Rippen (brother)
Weapons:
Multiple magical scepters
Vlurgen is Rippen's sister. Their parents favored Vlurgen over Rippen, giving her things like a car, a different magical scepter for every day of the week, and competent henchmen. She was first mentioned in Cereal Criminals and first debuted in Mr. Rippen.
Appearance
Personality
Relationships
Trivia
v

•

e

•

d

Penn Zero: Part-Time Hero Characters